Sydney's Perfect Wedding Locations!
Post Category: Weddings
Perfect Wedding Locations!
Perfect Locations for Your Sydney Wedding
If you are looking for a unique and exquisite wedding location, Sydney, Australia should definitely top the list. No matter where you are coming from, once you get there, you are bound to have a wedding location that will offer an experience and scenery you will never forget.
With such iconic sites as the Luna Park and Dunbar House, exclusive locations abound in this capital. However, out of the many wedding locations in Sydney, there are a few that stand out amoungst the crowd.
Here are perfect locations where you can hold your wedding (either intimate or big wedding);
Dunbar House
Dunbar, a vintage and stylish waterfront wedding venue, is located just a few kilometres from the shores of Sydney Harbour. It is one of the most iconic and historic wedding venues in Sydney. Featuring a spectacular view of Watson Bay, the Sydney city skyline, and local beaches, this amazing venue can accommodate up to 110 seated guests. With beautiful hallways and ornate wallpapers, there is no shortage of backgrounds here for an intimate wedding. And, with a dedicated staff willing to help with all things you may need, you can rest assured you will have a truly satisfying, colourful, intimate wedding at Dunbar House. The venue has a charming feel.
Why Dunbar House Stands Out;
- It is located just a stone throw away from Sydney Harbour
- It offers a perfect location for intimate and small wedding
- Has antic room downstairs and beautiful hallway for wedding photos
- Offers an opportunity to hold a waterfront wedding in Watsons Bay
Tara & Ozkan at Dunbar House for their very 'white' wedding!
Curzon Hall
Curzon Hall, a beautiful heritage wedding venue located near Macquarie University, was originally built in 1899. Harry Curzon Smith, a renowned entrepreneur, built it as a present to his wife, Isabella. Many years later, the area was converted into a function venue with semi-circular arches, Victorian Italianate style, marble fireplaces, cathedral ceilings, and much more to create a charming atmosphere or grandeur and romance.
Why Curzon Hall Stands Out;
- It looks like a palace making it perfect for people who want to hold fairy-tale weddings
- It has both wedding reception and wedding ceremony spaces at the same location
- You will find plenty of location for photo shoots, including inside the building
- You will find a variety of gardens for wedding ceremony options…The Enchanted Garden, and The Garden Chateau
The Eternal Garden at Curzon Hall with Suzanna & Alan and their family and friends!
Oatlands House
Oatlands House is a Georgian and French inspired custom landmark that occupies a 5-acre land. This beautiful wedding venue is located in Parramatta and has its own vineyard. French windows, grand crystal chandeliers, and sweeping staircases, among many other stunning designs, further enhance this breath-taking space with an ambiance of classic world allure.
Why Oatlands House Stands Out
- It has both wedding reception and ceremony spaces at the same location
- Has plenty of options for photo shoots, including inside the building
- Has a hall with a piano and fireplace for epic bridal portraits
With the beautiful Kate & Daniel at Oatlands House for their gorgeous wedding!
Sergeant Mess
Sergeants Mess is a well-groomed and modern waterfront wedding venue located in Chowder Bay. Its glitzy red lounge chairs, scenic view of the ocean, and statement walls for photos makes it a top class wedding venue for couples.
What Makes Sergeant Mess Stand Out?
- It's located in Mosman, an area where you can easily access various photo shoot locations such as Balmoral Beach, Gunners Barracks, Clifton Gardens, Bradleys Head, etc.
- It has both wedding reception and ceremony spaces at the same location
- It's suitable for big wedding ceremonies thanks to its expansive outdoor space
- Its Bridal Suite offers a great location for bridal party and photo shoot sessions
- Has an elegant, modern-looking reception hall
At Sergeant's Mess with beautiful Eliza & Augustine overlooking the beautiful Sydney Harbour!
Luna Park
If you are looking for a wedding venue that has a lot of fun activities, then Luna Park is the place to be. If you feel young and energetic, why not start your marriage life together in a classic and colourful theme park. It offers an opportunity to wear formal clothing in a casual setting; this contrast will look amazing. Besides, being in a venue that is more casual, yet attractive will ease up any jitters or nervousness that you or your significant other may have on your wedding day.
What Makes Luna Park Stand Out?
- It is fun-filled hence perfect for young, energetic couples
- Its theme park and rides makes it great for carnival-themed weddings
- You can get an opportunity to dance with famous Luna Park characters if you organize your wedding during the daytime
- It's close to Wendy's Secret Garden, and thus you can get a garden background for wedding photos
- There are nearby churches such as St Thomas Anglican Church where you can say the vows
Tammy & Mark on the beautiful carousel at Luna Park!
The Bottom Line
If you are located in Sydney, or you just want to hold your wedding in Sydney, you can't go wrong with any of these venues.

They are just 'Perfect' for either your intimate or big wedding ceremonies.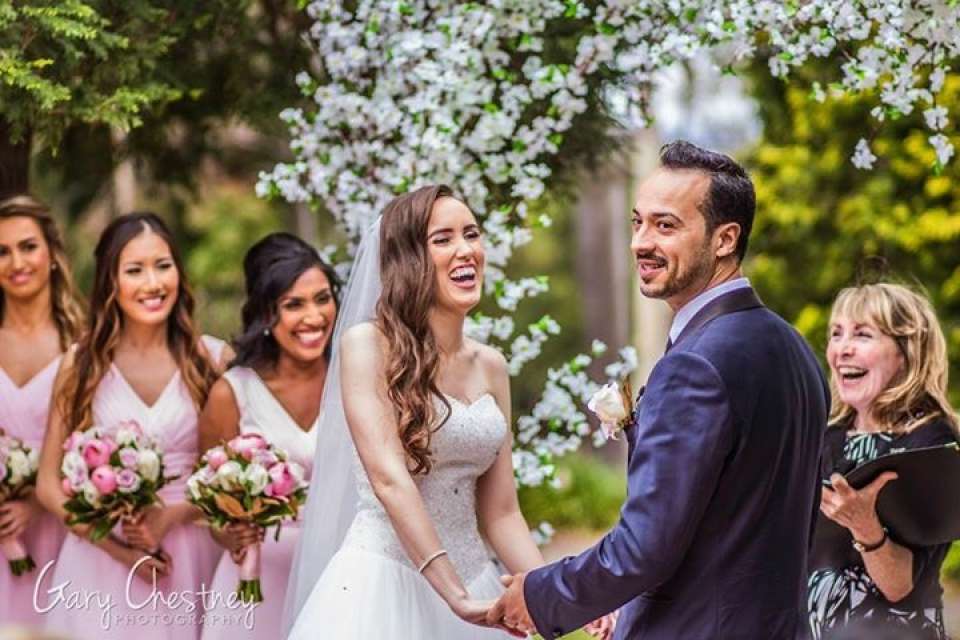 < Back to blog