Her Bride...... His Groom
Congratulations on your wedding day!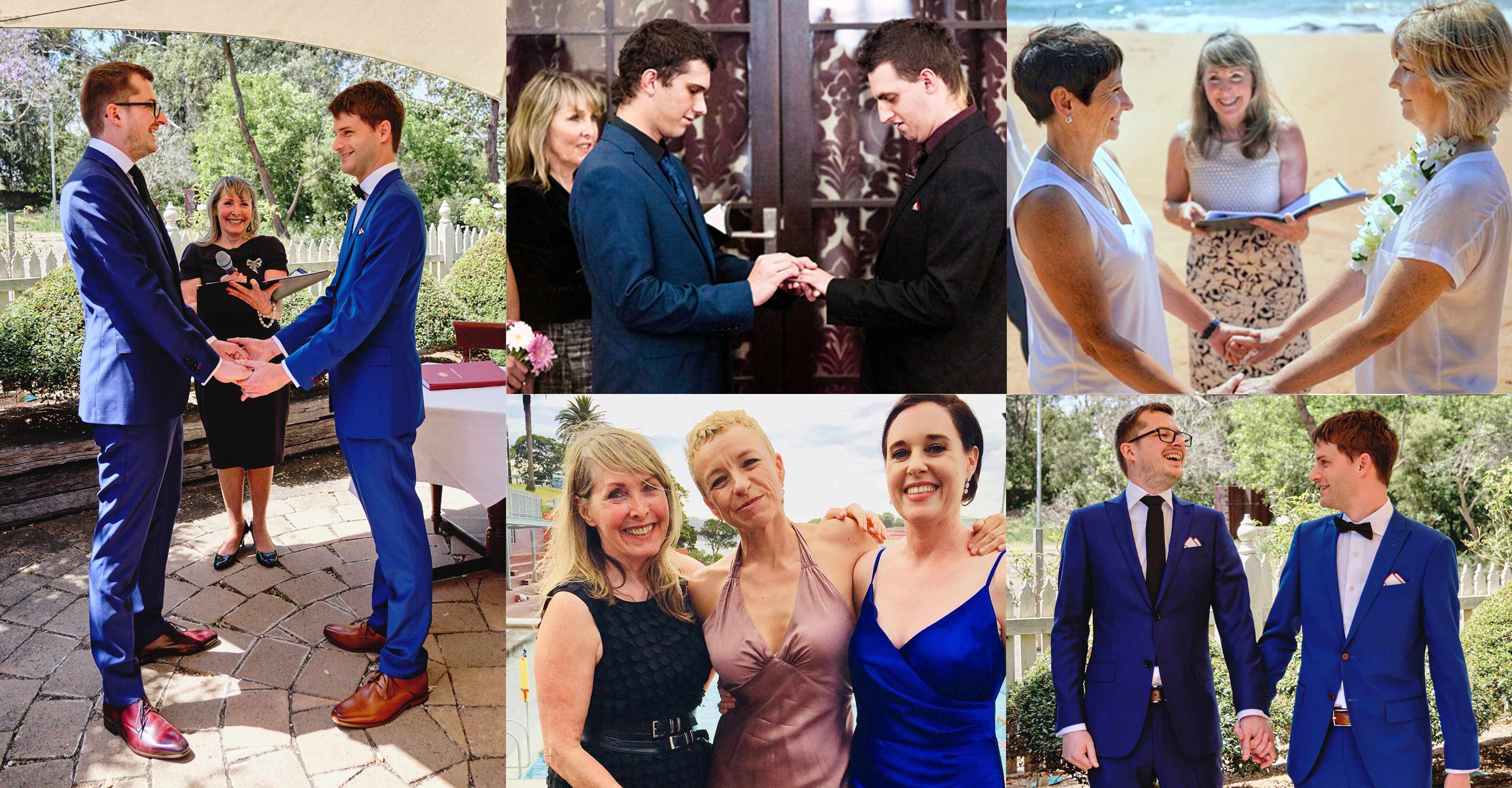 I have always believed that everyone has the right to experience the joy of finding the person they want to share their life with, and celebrating that union with a beautiful ceremony that commits them to each other, and now that we have had the vote, Australian communities will be beautifully enriched! 
As your Civil Celebrant, I am passionate about creating the ceremony that you want, that fits who you are, and share with you this amazing memory of your union. I am here to help you create your personal ceremony with all the help I can give you through phone calls, emails and meetings.
About Me
I have been a great supporter of 'Marriage Equality' for years, and last year I marched in the Mardi Gras under the banner…'Celebrants who believe in Marriage Equality', and had an absolutely fabulous night! 
I have been a Wedding Celebrant for about nine years and just adore it! 
I am experienced, friendly, passionate and fun! 

I give you 100's of choices to vibrantly craft your ceremony, filling it with romance laughter & love. 

You choose whether you wish to have a traditional or modern ceremony? 

At your rehearsal, I show you just how everything flows on your wedding day! 

Easy Legals for both local and overseas couples! 

Easy location in Balmain, Sydney! 

Looking forward to seeing you both soon, and Congratulations!
Recent Testimonial
Janet is a very warm and engaging person and she put us all at ease right from the get go. Our ceremony went smoothly and the formalities that go along with being married were made easy and doable. We had the most beautiful day and a lot of our friends commented on how beautiful our vows were and how well Janet came across - a lovely mixture of humour warmth and seriousness. We would highly recommend Janet to anybody - and if we could give her a star rating it would be a 6! Thank you for doing such a wonderful job for our ceremony. We are thrilled with how it all went. The party was fantastic and everyone is raving about the whole thing. We had a whole weekend of celebrating. 
~ Janqueline & Mary Anne ~ Friday 8th February 2019 ~ Location: Andrew Boy Charlton Pool at Mrs Macquarie's Road, Sydney
Get In Touch
"The more I give to thee, the more I have, for both are infinite."